Chancy is the wonderful Malawian lady who comes to clean our house every Monday. To me, she is a miracle worker.  It takes her one day to get our home sparkling and neat.
When we were on Level 4 and 5 of lockdown she was not allowed to work. For 2 months. 
Chancy hated it. You would think that an employee would love getting paid to do nothing but Chancy takes pride in her work and enjoys it.
I can tell you I hated it more.  Because I was also homeschooling our 6-year-old and running a business and housework was my lowest priority.  So I only did the bare minimum – and it showed.  The house was an absolute tip!  Thank Goodness we weren't allowed visitors during that time.
I cannot even begin to tell you how relieved I felt when Chancy returned to work and my son returned to School. Chancy was able to come to us on Monday and Tuesday that first week to do a thorough spring clean.
When I looked around at my clean empty house on Wednesday, 3rd June. was like a weight lifted off me and I could literally feel joy bubbling inside me.   A tidy house is a tidy mind.
Chancy… Respect!  You turned our home into our happy space again and we are deeply grateful. 
Are you still in quarantine and trying to juggle it all?
Here are some quick tips on how to tidy your home and keep it tidy.  The following post was contributed by NW Maids.  They know their stuff.
Quick Tips – How To Tidy Your Home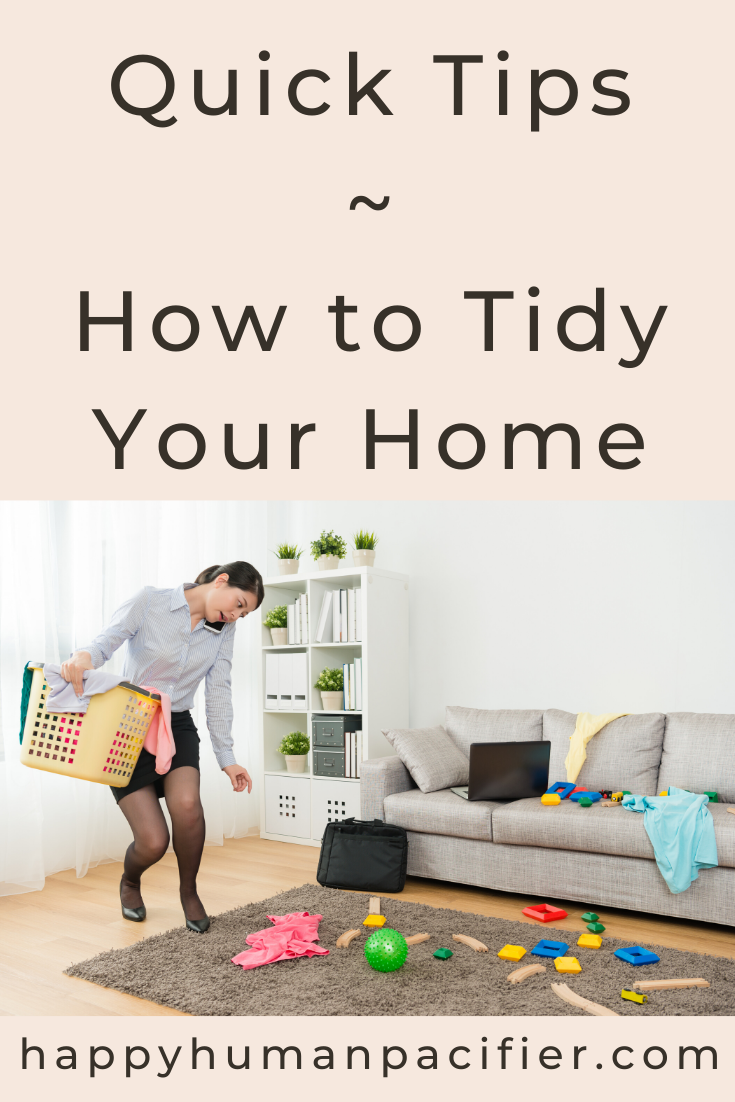 If you're like most busy people with a family, the last thing you want to do is spend all your free time cleaning and tidying. Nor do you want to live in a constant mess.
So, what do you do? You come up with a plan, and these tips on how to tidy your home will get you off to a good start. Also NW Maids Cleaning Service tells you that cleaning your home is the easiest way to improve clarity and deter stress.
Designate a Space for Everything
There are always areas of the house which seem to collect more than their fair share of household items and knick-knacks. Clothes get left on bedside tables, and computer desks are a magnet for stuff that doesn't seem to fit anywhere else.
Give everything a home.
Stuff that ends up on the office desk could have a dedicated drawer (quite often called the junk drawer).
Instead of putting shoes wherever you happen to take them off, put a shoe rack by the front door.
If you're continually picking up clothes from the bathroom floor, put a basket there so you have a convenient receptacle for dirty clothes that everyone will use.
Use the One in One Out System
Don't buy anything unless you need it, and if you do, discard a similar item, so you are never at risk of building up the clutter.  If you're replacing something that is still serviceable, consider donating it instead of throwing it out. Selling is also an option.
Form New Habits
Get in the habit of putting things away when you aren't using them.
When you make coffee, put the coffee and sugar away, and pop the teaspoon in the dishwasher. When you're done with the cup, it should follow the spoon.
Every morning when you wake, let the first thing you do be making the bed.
Put the dishwasher on every night, even if it's not entirely full. Family members have an annoying habit of leaving little jobs like this up to someone else, and the kitchen counter gets overrun with dirty dishes. Give everybody somewhere to put their dishes other than on the kitchen counter or sink tray.
As you might have guessed, tidying your home involves staying on top of the little things, because it's always the little things that add up to a big mess if you don't get control of them.
Such brilliant tips on how to tidy your home – Thank You NW Maids. Will work on these so we don't get ourselves into this pickle again. 
Over to You
Moms, how are you doing?  Are you coping during quarantine? Are you managing to keep your house tidy with your kids (and maybe your spouse) at home?