Have you found lockdown a good time to declutter?   I thought I would but I didn't get around to doing much.
My friend Mandy, on the other hand, who's already an incredible homemaker, not only took the time to Spring clean but also did some mini renovations.
Mandy and her husband turned an open playroom off the lounge into a spare room, added stairs leading off the patio to the lawn, created shelving in the study (soon to become cupboards) and a TV cabinet in the living room, revamped their toddler's bedroom, created a homeschool in the garage and bunch of other home improvements… Mandy's house is looking even more amazing than ever!
Decluttering your home is important because we tend to build up a lot of clutter without even realizing it.  It's essential to get rid of all this unnecessary junk so that you aren't overwhelmed.
Here are four tips for decluttering your family home so that you can live more harmoniously in your space and find your peace.
1. Focus on One Area at a Time
Firstly, you want to focus on areas one at a time, rather than trying to tackle the whole property at once. The likelihood of you getting it done within the hours you need to might be difficult and you could then end getting bored of decluttering.
Try to take it one room at a time and that way you can focus all your attention in that one space, rather than thinking about other areas.
It helps you to really spend your time in decluttering and taking every bit of the room to find the items of pieces of furniture that you might not want anymore.
You might find that from each room, you have things that you want to put into storage, rather than getting rid of it completely. When decluttering, try to have three piles, one to keep, donate or chuck away.
The more you can give back, rather than throwing out, the kinder you are the environment.
2. View Your Home with the Eyes of a Stranger
Your home is seen by your eyes only and so what you see is something you see on a daily basis. One way of decluttering your home is trying to see it from a different perspective.
Imagine you're walking into this home as a stranger and think about what you would change or what you feel is getting in the way. It can be very helpful to do this because it might help you to see your home from a different viewpoint.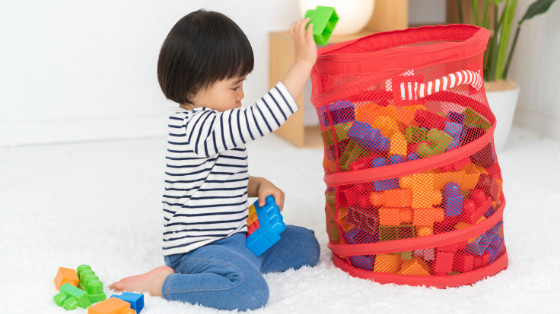 3. Get the Rest of the Household Involved
When it comes to decluttering, you shouldn't be the only one in the home who is taking on the task. Everyone else has a responsibility to look after the home when they live in it, and it's, therefore, important to get everyone else involved too.
It's good to do this because you then avoid not throwing things out because you don't know who they belong to. It can also be a great way of having a bit of family bonding time, even if not everyone gets much fun from cleaning up and decluttering the home.
4. Try to get Things off the Ground
Floor space is important in any home, regardless of the size. It's something that's certainly noticeable in smaller homes, and when it comes to decluttering, you want to bring as much off the floor as you can.
Obviously, some furniture can't be removed, but there's likely to be other things that are getting in the way.
Decluttering your family home is something you should be at least doing once a year, if not a few times a year to ensure you stay on top of it.
Over to You
Have you found lockdown a good time to do a good old Spring clean? Is your house looking more gorgeous than ever?  Or were you in desperate need of these four tips for decluttering your family home?
Image Credit:  Pexels