Guest Post submitted by Basic Invite
Tips for a Gender Reveal Party
Some parents love to keep the gender of their child a secret to themselves and those around them because maybe they simply want to be surprised when the baby is born, or they don't really mind what their baby's gender is. Gender reveal parties have become very popular among young parents today, which simply involves the expectant couple going for an ultrasound to determine what the baby's biological sex is, getting all their friends and family together for a party, and revealing the baby's gender so that everyone present can celebrate the biological sex of the upcoming birth.
Learning the gender of your child is as exciting as finding out you're expecting and maybe now you can decide what hues to use in the baby room and whether all the baby clothes are going to be pink and fluffy or bob the builder themed.
Prior to the gender reveal moment, the parents-to-be will keep their guests guessing the gender of the baby for a little friendly competition where the predictions and scores are literally tallied on a chalkboard to see who gets it right on the money.
A gender reveal party is meant to involve everyone and incorporate party themes and games such as gender reveal scavenger hunts, sports or sparkles, touchdowns or tutus, wheels or heels to mention a few.
Here are additional tips for a gender reveal party
Have a somewhat neutral yet fun colored gender reveal baby shower invitations for your guest. You can throw them off a bit by adding some pinks and blues on the invitations to keep them guessing.
Find creative ways to reveal the gender such as have a drop-down banner/ prop, or a black balloon with either pink or blue confetti, a cake with a pink or blue filling, or a piñata with pink or blue confetti or candies and let the guests take turns trying to expose the baby's gender.
Consider your centerpiece decorations such as blue and pink flower pots, he or she place cards, scratch and reveal cards, confetti table poppers, gender reveal guest book, gender reveal bomb set, etc.
The theme of your gender reveal party will need a lot of creativity. For example; you can have your guests wear blue or pink depending on what sex they think the baby is or provide gender-specific accessories such as tiny tiaras and mustaches and make your guests commit to wearing them until the reveal moment.
As far as food is concerned, make sure that you have plenty of blue and pink snacks or fruit jello cocktail shots served in little cups of the same color where each guest picks the one they think the gender is. Creativity is key. You can order pink and blue cupcakes from the grocery store or make your own.
It's important to keep your guests entertained. Test their ability to read the sonogram by putting it on display and having them vote for whether they think it's a boy or girl.
Basic Invite offers fully customizable gender reveal baby shower invitations that can be personalized instantly online with real-time previews.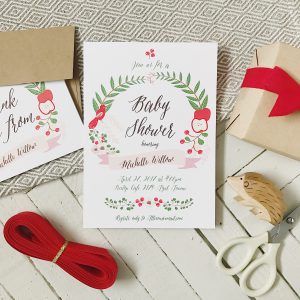 Follow Basic Invite on:
Facebook: https://www.facebook.com/basicinvite
Pinterest: https://www.pinterest.com/basicinvite/
Instagram: https://www.instagram.com/basicinvite/