How are You Celebrating World Breastfeeding Week 2018?
It's day 7 of World Breastfeeding Week 2018.  WBW runs from 1st to 7th August every year and the Theme this year is
BREASTFEEDING: Foundation of Life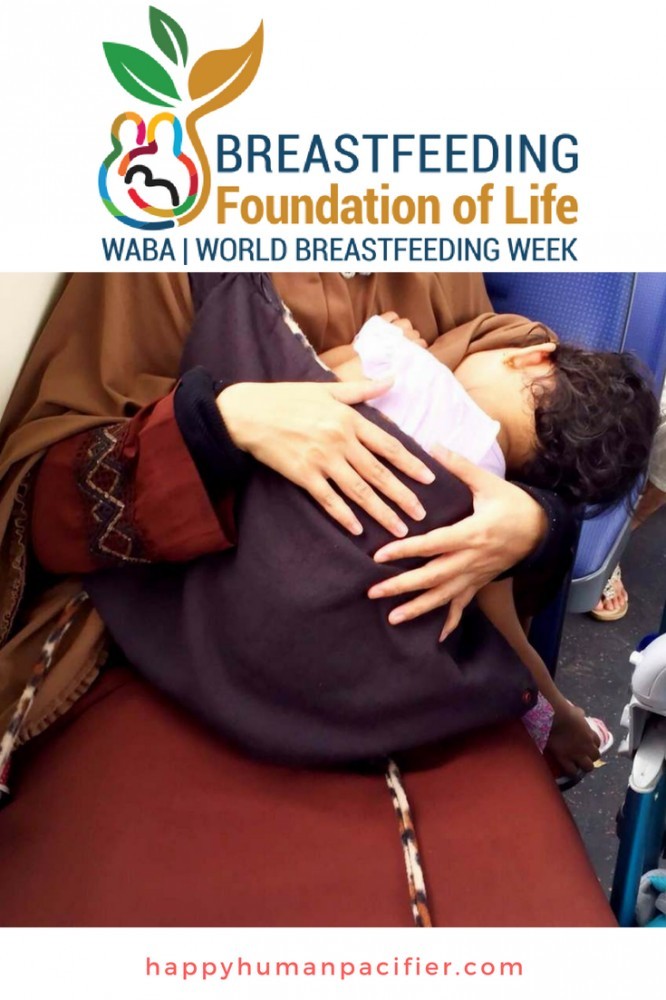 Go to worldbreastfeedingweek.org for more info.
Aah, I love this year's Theme. Breastfeeding was definitely the foundation of life for my son.
Benjamin is nearly 5 now and although he let go of nursing naturally just before he turned 4, he still talks about it fondly and shows great interest when he sees other babies being breastfed. We still co-sleep.
He started baby led weaning at 6 months but didn't really show an interest in food until he was about 11 months-old but breast milk remained his staple diet until he was at least 18-months-old.
My son has never been so ill he needed to be hospitalised.  He seldom gets sick and when he does he's generally able to carry on as normal and recovers far quicker than the rest of the family.  Interestingly, he refuses antibiotics and will only take homoeopathic medicine.
He is a healthy, happy, bright boy and I have never regretted one minute of the many hours I dedicated to nursing him. These were some of the most precious times of my life and also formed the foundation for the wonderful, close relationship we enjoy.
Find our previous WBW posts here:
Meet Inspirational Breastfeeding Moms
On this site, you'll find interviews with Nursing Moms who have gone above and beyond the call of duty to nurse their little ones and openly share their trials, tribulations and tips.
Low Milk Supply and Pumping
Rina of LivingwithLowMilkSupply and Heather aka ThePumpingMommy share their personal experience and best Pumping tips.
Donating Breast Milk
Ashley Clifford learned how to increase her milk supply with her second baby and was so successful she was able to donate milk to babies in need.
Breastfeeding Premature Twins
Melinda Ferreira discovered how difficult it was to breastfeed in NICU when her twins were born at 32 weeks and gives sage advice for Moms going through the same experience.
Inducing Lactation to Breastfeed Adopted Babies
Louise shares her powerful story of inducing lactation in order to nurse her adopted baby from the age of 3 months.
Another adoptive mother conveys the incredible beauty when her adopted son crawled up to her breasts and latched 25 minutes after being born.
Tandem Nursing
Kelly Urban describes how important (yet painful) it was to nurse her daughter throughout her pregnancy with her son and tandem nurse a toddler and a baby.
Tandem Breastfeeding a Toddler and a Baby – Kelly Urban's Beautiful Story
Extended Breastfeeding
Dr. Ilana Joubert explains why it was so important to breastfeed each of her 3 girls for over 2 years and give us 21 rock solid reasons to breastfeed.
21 Rock Solid Reasons Our Family Doctor is Passionately Pro Breastfeeding
I  share my one breastfeeding regret as well as the pros and cons of breastfeeding a toddler.
I had great plans for World Breastfeeding Week 2018.  About a month ago I decided to host a Content Contest on Happy Human Pacifier and offer cash prizes for the freshest original articles written about this year's WBW Theme.  ($100 for the first prize, $75 for the 2nd prize and $50 for the 3rd prize).
I was excited,  I had a whole month to plan and get the word out.  Unfortunately, for a number of reasons, I never managed to follow through on my plans (this year) so I've had to shelve them for next year.
If you're interested in entering the contest next year, please let me know in the comments below.
WBW 2018 Magazine on Flipboard
However, I have managed to do what I've done every year since I started this website in 2016: collate a number of articles from around the web into a Magazine on Flipboard.   I'll keep adding to this magazine as I find interesting and relevant posts.
You can find it here:
WBW 2016 and 2017 articles can be found in this magazine:
How do you see Breastfeeding as the Foundation of Life?
I invite you to share your own experience in the comments below.